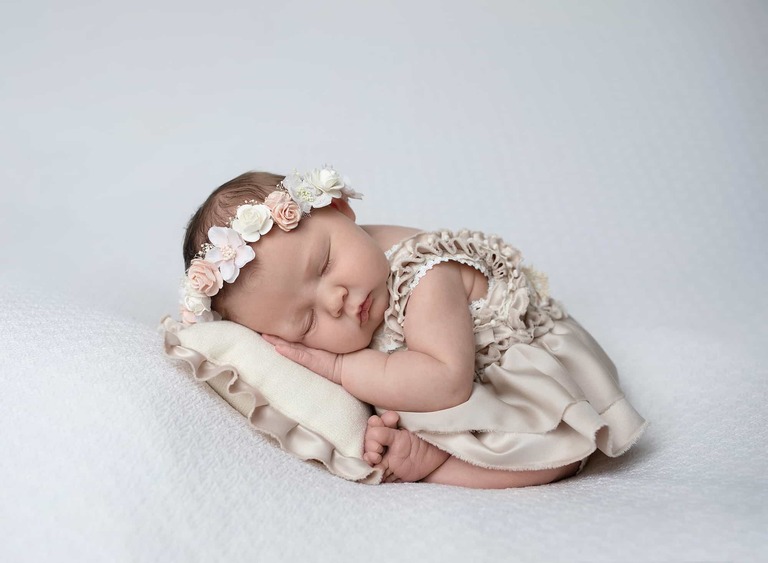 Moms often have a lot of questions about what to expect during a newborn portrait session in the studio.  We want you to feel prepared so we've put together this simple list of some things to expect!
1.  It's going to be warm.  So that baby is comfortable and sleepy, we will have the studio very warm.  You may want to dress in layers or bring something to change into.  We will have cold water available for you and you are always welcome to step outside if you need to cool down.
2.  Patience is the name of the game. Newborn portraits can take some time.  Expect to be at the studio for anywhere between 2 – 4 hours for a full session depending on baby.  Sessions with family and sibling photos tend to be on the longer end.  Baby needs time to eat, change and sometimes some snuggles to help them settle in between sets.  We have some snacks available but you're welcome to bring something with you as well!
3.  Pacifiers are recommended. Even if you don't use one regularly, pacifiers can be very helpful when it comes to settling baby into each set-up.  We are disturbing their sleep and their routine.  It's often a handy tool to have on hand!
4.  Family portraits first. We like to start the session with baby and parents, then add siblings and end with baby alone.  Once the family and sibling photos are done, we ask that you have someone available to take little siblings home.  From our experience its better for baby and mom gets a little break, too!
5.  Pee and poo happen!  As a newborn photographer, pee and poo are often just part of the process.  Don't be alarmed if your baby messes on some props.  We're used to it! You may want to have a change of clothes for parents if you choose to have baby undressed for the parent shots – just in case!
Interested in learning more about a newborn portrait session with Bobi Biederman Photography?  Visit our contact page or call 440-864-4419.